December 4, 2021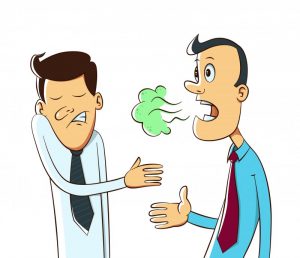 Bad breath is about as popular as an antisocial mosquito, but it will still crash the party if you don't take steps to keep it at bay.
It is mostly thought of as unpleasant for others to be around, yet more importantly, when you have bad breath it is typically caused by bacteria being present on your teeth and debris on your tongue. Essentially, unless it's from something you ate like onions or garlic, bad breath is a sign the environment in your mouth is not currently a positive one.
Keep reading to learn tips from your dentist in Rocky Mount about how to keep bad breath out of your business.
Don't Use Tobacco Products
Smoking tobacco dries out your mouth to trigger bad breath. Even brushing might not help you get rid of the smell.
Floss Daily
Flossing at least once a day is important to remove food debris that a toothbrush can't reach. Skipping flossing allows bacteria to feed on what brushing left behind, which causes bad breath.
Brush Your Teeth Daily
Brush your teeth at least twice each day to remove plaque and food debris. A daily round of brushing with baking soda is a great idea because it eliminates plaque to help your teeth look cleaner and freshen your breath.
Brush or Scrape Your Tongue Daily
To remove residue that may have accumulated between your taste buds and the folds in your tongue, you can get a tongue scraper. Another option is to brush your tongue with a toothbrush.
Chew Sugarless Gum
The gum stimulates saliva flow, which is huge in the battle versus bad breath. Mint gum is also helpful for fresh breath.
Snack on Apples, Celery, or Carrots
Eating crispy fruits and vegetables gets your saliva flowing, which is important to fight bacteria. The saliva also removes food debris.
Stay Hydrated
Try to drink at least 48 ounces of water each day. This will help you avoid dry mouth. The water washes away food particles and bacteria to combat odor.
Bad breath is always lurking in case you allow bacteria to flourish. But if you follow these steps each day, it won't be an issue that materializes for your oral health.
About the Practice
At Drs. Belton & Schrimper General Dentistry, we strive to provide high-quality dentistry to patients in Rocky Mount just as we have for 30-plus years now. Our dentists Dr. Barry Belton and Dr. Kevin Schrimper each earned their dental doctorates from the University of North Carolina and are members of the American Dental Association. Your dentist in Rocky Mount can do their part to help you win the battle with bad breath via a dental cleaning and exam, which you can schedule on our website or by calling (252) 937-7878.
Comments Off

on Tips from Your Dentist in Rocky Mount to Ditch Bad Breath
No Comments
No comments yet.
RSS feed for comments on this post.
Sorry, the comment form is closed at this time.