Skilled Rocky Mount, NC Dentist
Get to Know Hunter Perry, DMD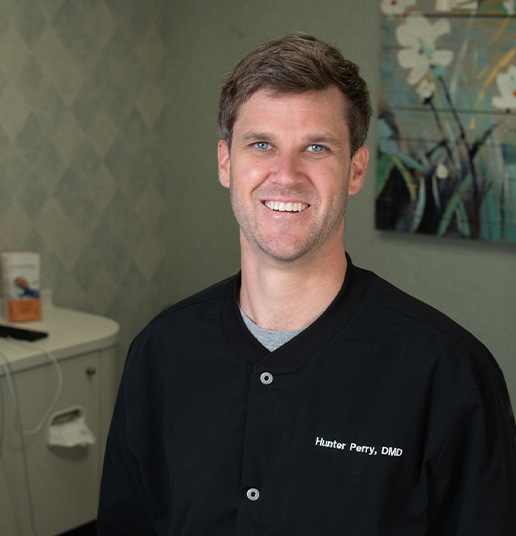 Born and raised in Rocky Mount, when Dr. Perry takes care of a patient, he thinks about much more than just their teeth. His goal with everyone is to create a comfortable environment so he's able to provide individualized care and education while the person stays relaxed in the chair. This kind of approach not only leads to better dentistry, but less anxiety during appointments as well! Before you have a chance to meet Dr. Perry in person, you can learn more about him below.
Why Did You Decide to Become a Dentist?
Dr. Perry always enjoyed being with people, and he liked working with his hands as well, so dentistry seemed like a natural choice. It was so obvious that he ended up shadowing in this office while he was still in high school! All these years later, he's thrilled to be back and now be the one serving the community.
Where Did You Study Dentistry?
Dr. Perry started his college career by graduating from NC State with a bachelor's degree in zoology, and he went on to receive his DMD from the East Carolina School of Dentistry. Even though he is out of school, he still strives to educate himself so he can keep his skills and knowledge up to date. He routinely takes courses through his memberships in the American Dental Association, North Carolina Dental Society, and the Seattle Study Club.
Outside of the Dental Office, What Do You Like to Do?
When he isn't here, you'll usually find Dr. Perry doing pretty much anything that allows him to enjoy the outdoors. He's a big golfer, and he also likes to dedicate some free time to cheering on NC State athletics as well.