September 4, 2021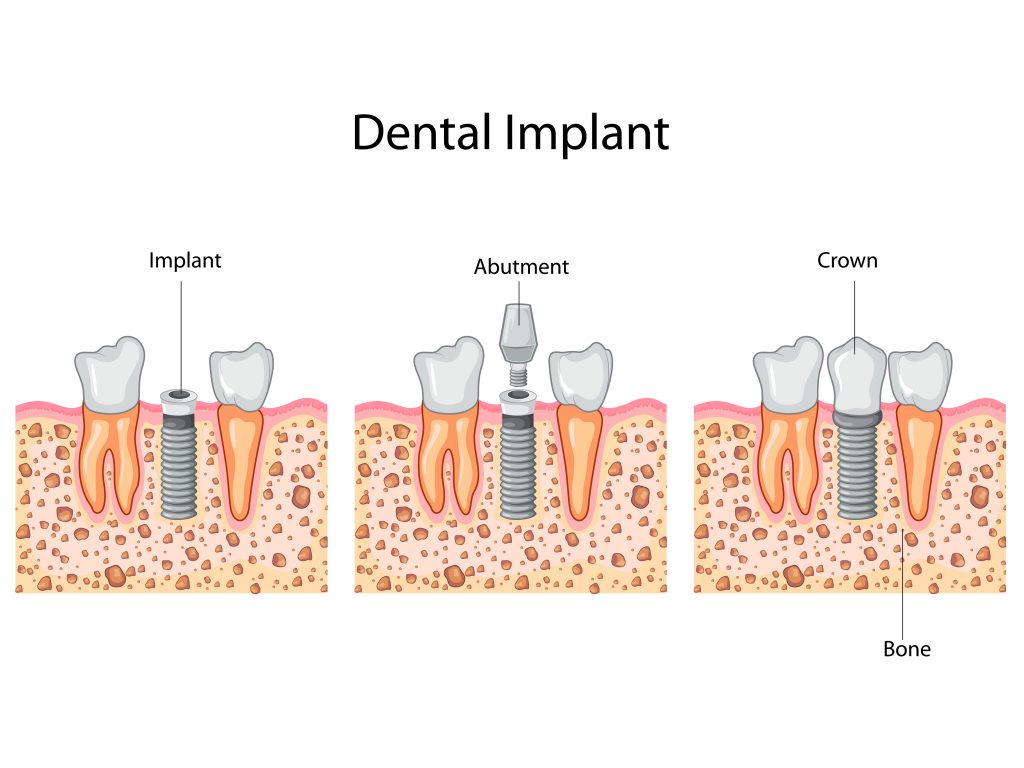 Bifurcation, certiorari, intestate, vior dire… Wait, what? These are legal terms that might be commonplace to a lawyer, but to most people they hold no meaning.
The same goes for some terms that two dentists might use when talking to each other. In fact, you'll likely hear a few during your dental implant consultation!
When your dentist is explaining the dental implant procedure, you may feel the need to grab your smartphone to look up the unfamiliar terminology. Don't worry, we're sharing all of the words pertaining to dental implants in Rocky Mount you'll need to know.
Abutment
An abutment is attached to the top – or built into – your dental implant. It is a connector that attaches the replacement tooth, crown, or bridge, keeping it firmly in place.
Ceramic
Ceramic is a clay material hardened by heat that is used to make dental implants. It offers more of a natural look compared to titanium, especially when it is available in ivory, so it looks similar to existing teeth and roots. Also, a ceramic implant is a great option for someone with a metal allergy.
Crown
Also referred to as a cap, a crown replaces a single tooth that may have been lost or broken. Crowns generally fit over the top of existing teeth, but they must attach to the abutment of a dental implant or be ground down to fit.
Endosteal Implant
This is the most commonly utilized implant in modern dentistry. A dentist will place small screws, plates, blades, or cylinders into the jawbone during a surgical procedure. Each implant can accommodate at least one prosthetic tooth.
Eposteal Implant
This implant rests directly on the jawbone to create support. Though it is often seen as an outdated way of placing an implant, when the risk of advanced bone reabsorption is high for a patient, a dentist may opt to use it.
Osseointegration
From Greek and Latin words meaning "bone" and "to make whole," this term refers to a biological process that enables a dental implant to fuse with your existing bone, improving the strength between the bone and implant.
Subperiosteal Implant
This type of implant sits on top of the jaw with the posts of the metal framework protruding through the gum to support the prosthetic tooth. A dentist may opt for this method if a patient is unable to wear conventional dentures or has minimal bone height.
Titanium
Since it has several advantages, most modern implants are made of titanium. Few people are allergic to titanium, it's lightweight but very strong, it has high-oxygen affinity, and it can ossify with bone to produce a stronger, lasting implant.
Zirconia
For the small percentage of people who are allergic to titanium, zirconia offers another implant option. This type of implant often results in better gum health compared to titanium, plus it is white, so it looks like a natural tooth.
There is nothing wrong with asking your dentist to explain dental implant terms they are using during your conversation, but it is helpful for you to head into an appointment already understanding them so you can focus on making the best decision for your oral health.
About the Author
At Drs. Belton & Schrimper General Dentistry, we are focused on providing attentive, high-quality care. We get to know our patients as people, not numbers. Dr. Belton and Dr. Schrimper are both proud graduates of the University of North Carolina Dental School. They can provide custom-made dental implant restorations from a single tooth to all of your teeth. To schedule a consultation or learn more about our other dental services, visit our website or call (252) 937-7878.
Comments Off

on Get to Know the ABCs of Dental Implant Terminology
No Comments
No comments yet.
RSS feed for comments on this post.
Sorry, the comment form is closed at this time.